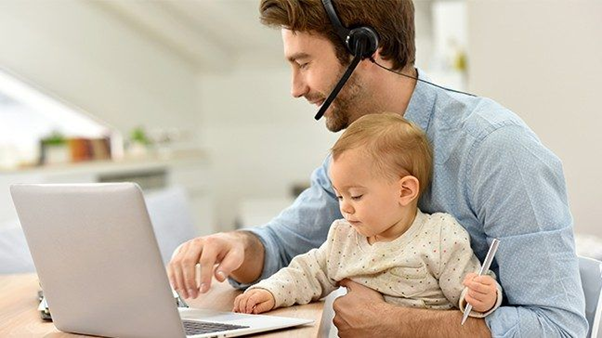 Here's a way to start a business without a loan In this article, I will try to take a hostile approach against Affiliate Marketing in a bid to demonstrate its effectiveness to generate an income. This method is suitable for unskilled, poorly financed, any gendered, any aged individuals seeking to earn an income that once initiated will pay you in your sleep, while you are down the grocers, collecting the kids from school or lying on a beach. So, let's take a look at some reasons why it's not a good idea first:
It takes some time to get established
Affiliate Marketing requires a routine or regimen
Bad Affiliate Partnerships can arise
You have no control over commissions
Competition is tough
How do you choose the right product?
Where can you learn about the business? I know nothing about the industry
Looking through the list of concerns I will hope that you will see that the points raised are pretty straight forward AND typical for any venture that you may be considering. I will not spend time on all of the points because they are self-explanatory, however, if you feel that a bit of self-discipline is required when working for yourself is a step too far, please stop now because this type of work maybe not what you are looking for, but the last point concerning the "how to" I will discuss later on in the article.
How long will it take? The rewards in this type of business can be great and you will see many people talking about how much they earn on YouTube or Social media. I would be stupid to be an authority on how long it takes, but my research suggests between 6 months to a year. Seriously if to identical websites started in the business and one affiliate worked 60 hours a week and the other did 25 hours, it's obvious who will see success first unless you have a large social media base or a deal with a famous "influencer".
How do I build a base? Developing a customer base depends on your niche, reviewing and promoting flutes (for example) may take to a lot longer to be successful than a more competitive industry and before you say "competitive industry", how can I make money there?", remember it is competitive for a reason and no one person owns it all, therefore building a strong base can be profitable. Affiliate marketing is about commission percentage, picking the right market place and the number of people that will buy from you. So, let's use this example: Company A gives you a 60% commission but you end up selling 10's of units whilst Company B gives you 5% and you sell to 000's. Please don't tell me Company A. You could find a company that gives you a 1% commission but the product is worth $1,000,000. Ten sales a year or $100,000 may be all the incentive you need to select this approach.
The wrong way to do it! (commonly known as the popular mistakes)
1 – Starting with making money first Most people think, how do I get the money through the door first…wrong! If you start sending out adverts or blogs, the potential customer doesn't know who you are and it just comes across as spam and no one likes spam. Value has to be created first in order to justify them paying you.
2 – Failing to create a business plan Because the bar is not a high one, many people try to enter the market and wander aimlessly in all directions at once, so you will need to make a plan to achieve your goal(s). Don't worry making a plan is not as daunting as it sounds and it doesn't have to be for a bank loan, but gives you time to understand the market and the tools you may require. You can contact me on my website (https://freelancedirect.net) if you are unsure about how to proceed. Besides, you wouldn't go on a long journey without a map, so you should consider this as an exercise in establishing the correct steps to take. Getting advice in the form of mentoring, coaching or training is always advised because successful ventures can turn into something more than you might have expected and formal practices will have to be observed.
3 – Lack of Patience You may find a guy in a bar that will tell you that if you do so and so things will happen overnight, well just like losing weight, even an operation to have fat removed is not an overnight process, booking a surgeon a bed and all the other things take time and again would you buy from someone you don't know straight away? Therefore if you do this properly, you can have him/her coming back for many years to come.
4 – Going into a market you don't understand Going into a market like insurance may be profitable, but if you cannot understand or address the issues raised will discourage potential clients. If you stick with what you know at the beginning it will build your confidence, display your passion and demonstrate authority. It is connected with point one and should be taken seriously.
5 – Don't go chasing the money, attract It instead When you provide enough value for people, making money becomes easier. Just think, people who have served you well generally remain in your good books in a time of need. So, if you can be that someone who provides helpful information or services, you will gain a following. You can do this through a blog, a series of YouTube videos, a website, using online radio, running popular social media pages, writing eBooks are just a few ways. I talk about some of the personal ways I promote my affiliate marketing business in my course, again you can contact me on the website for more information. Once you create enough value and attract PEOPLE to you, the money will soon follow. From passive display advertising to promoting other people's products and services to selling your own products and services… If you build it, they will come. Once they come, monetising is simple.
6 – Have a money plan ready Being one step ahead will be to your advantage, you can always change your plan if conditions change. Things like: How do you intend to make money? Who will your affiliate partners be? What products or services will you promote? HOW will you promote them? Will you use display ads? When will you be ready? What ads will you display? What service(s) will you use?
7 – Sticking to the path I will be brief for this one! Make sure your work time is really being spent on WORK. Other-wise your launch date will end up disappearing into the future.
8 – Being Afraid of Failure In the online marketing world, there is absolutely no such thing as failure. Learning how to market to people online is not easy and is best learned through trial and error. Test, test, and re-test. Fine-tune what works and ditch what doesn't work. As an affiliate marketer, you will spend a lot of time on projects that go nowhere and never make you any money. But when you do find something that makes you money, it can almost always be replicated over and over again for YEARS. If failure depresses you, you'll never make it in business. Take it as an exercise or an opportunity for growth and do try and find out where you make the mistake so that you can learn (trust me you will never forget). It's part of the job. Finding out what works and what doesn't. That will likely never end as long as you're in business.
9 – Don't rely on just Search Engines If I have to tell you not to depend on organic traffic is like saying "don't put all your eggs into one basket". Consider social media, paid adverts and if you are brave YouTube! If a customer can see you, there is more chance to build a rapport and whatever you do keep all emails backed up somewhere ( I would advise always using your website).
10 – Authority Peoples lives may be busy or there may be other considerations, but try to be as knowledgeable as possible about your subject (an expert). Go onto forums, experience peoples problems and concerns read as many articles as you can. Authority leads to peace of mind, hopefully from there to trust and finally sales and that should be why you are in business.
How do I start as an affiliate newbie? To be an affiliate marketer you will need an offer and a method to get traffic to that offer for potential customers to see it and make a purchase. There are two kinds of traffic.
Paid Traffic - Youtube ads, Google ads, Facebook ads, or even Tiktok, Instagram and Twitter offer paid advertising.
Free Traffic - This could be making your own Youtube videos doing product how-to or product reviews or product comparisons show customers how your offer works and how it compares to the competition.
Paid adverts is a faceless method to promote an offer. You can use images or stock video for your ads and not show yourself. Using Youtube is free but you may have to show yourself more. That's actually a good thing because if you get to engage with your audience you can make more sales and in the future if you are successful even get Youtube to pay you for your efforts.
My recommendation is to choose a product that has:
1) A High commission and that a lot of people want.
2) Has recurring income. It's hard to get a customer. If they only buy once then you have to keep getting more all the time. If you get someone on a monthly subscription you can get paid every month and build it up. (High demand items is another option, but it takes a lot longer to make your target figure) Some people just use a lead page, but if you are going to be doing this seriously then the way to go is with a "Sales Funnel". You send traffic to a lead capture (opt-in) page where you give them a free gift or something of value in exchange for their email.
Sales Funnel Diagram: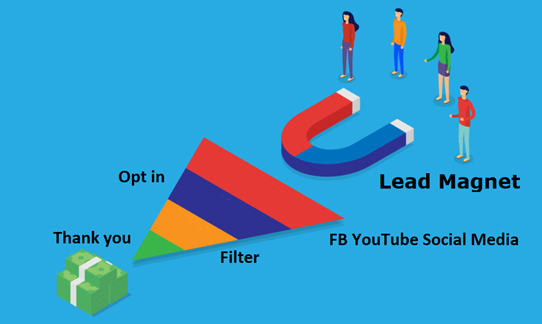 These Facebook, Youtube or Social Media pages don't usually buy right away so if you have their email the funnel process is intended to filter out only the serious buyers and turn them into buyers. The good thing is that now that you have developed an email list this becomes a valuable business asset that you can use later on to send different offers to your list and have a warm group of people who already know you. Since they know you now they are more likely to buy. Following through this process it should be apparent that Affiliate Marketing is not a scam, but does require some effort but the rewards are worth it. It entirely depends on the level of commitment you develop with your list and should never be considered as a blunt tool for sales, offers from time to time dispersed with news and useful information is a good way to keep your base happy.